Hanoitourist Corporation to attend Vietnam International Travel Mart (VITM) 2019
Hanoitourist - Following of success of the previous fairs, Vietnam International Travel Mart (VITM) 2019 will be held at ICE Convention Center – 98 Tran Hung Dao St 27/3 – 30/3 with the theme "Green Tourism".
Hanoitourist Corporation is attending the fair with 10 booths, totaling to 90m2 and operating under one common roof. This year booth's design was inspired by the vast blue sea, recreating the space of an airy, peaceful oasis surrounded by gentle blue waves and white sands. With special features dedicated to the 15th anniversary of the Corporation, this year design will undoubtedly attract the greatest attention of customers.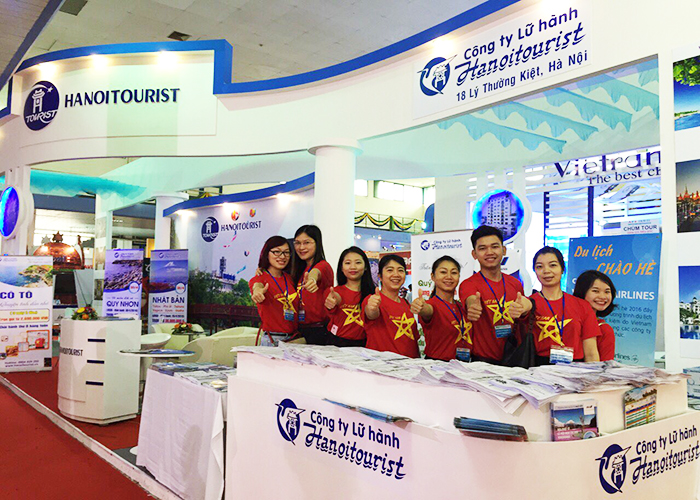 The associated units of Hanoitourist Corporation attending the fair are: Hanoitourist Travel Company, Sofitel Metropole Hotel, Hilton Hotel, Hoa Binh Hotel, Thang Long Espana Hotel and Thang Long Opera Hotel.
Coming to VITM 2019, Hanoitourist Travel Company has prepared over 100 special promotions and thousands of flights both in Vietnam and overseas with flexible dates. The diss for tours range 700,000 VND to 2 million VND. The company also organized "Cuba Tourism Festival" – the special event exclusively for VITM 2019, giving tourists another interesting destination to create more exciting and meaningful journey.
To honour this year's "Green Tourism" theme, besides the annual stimulus activities, VITM 2019 has planned for numerous programs related to the green growth of the tourism industry such as effective utilization of resources, the protection of the environment and responses to climate change in tourism activities – all working towards global sustainable development by 2030.
This year VITM fair will feature 720 units 25 ries and territories. It is estimated to attract more than 85 thousand visitors with 350 billion VND expected revenue. The fair is an ideal opportunity for businesses in the tourism industry to build and promote their brands to thousands of potential customers and partners.
In addition to direct buying and selling activities, the fair will also have cultural and artistic activities, press conferences and forums related to the theme, product introduction, destination promotion, and ect./.