A complete guide to Phong Nha
Phong Nha is an adventurer's paradise. Millions of years of flooding have chiseled out the world's largest caves, meandering rivers entwine ancient karsts, and jungle-clad mountains lend an otherworldly atmosphere.
Colossal caves may be the main draw, but linger a little longer and Phong Nha-Ke Bang National Park will reveal hiking trails, ryside lanes, and rivers perfect for kayaking. Although this is Vietnam's top adventure destination, Phong Nha is still in the early stages of development. Now is the time to come. The caves are pristine, the locals are friendly, and you'll feel like you have the wilderness all to yourself.
---
Top things to do in Phong Nha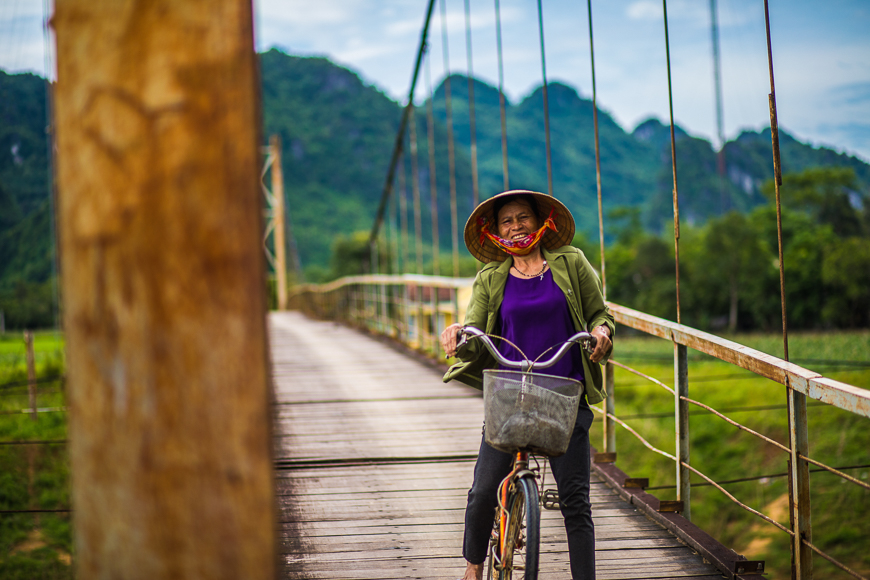 A woman cycling in the ryside of Phong Nha.
Camping and Caving
Caves in Phong Nha range the tame to the tremendous. For conservation reasons, local authorities restrict access to the larger caves. Some tour companies have exclusive rights to take travellers inside certain caves, while others are open to all. Son Doong looms large as one of the world's greatest natural wonders, but don't let that overshadow the allure of Phong Nha's other treasures.
TIP: It's worth noting that many of Phong Nha's caves are inaccessible during rainy season ( October to December.) Try to visit at other times of the year if you can.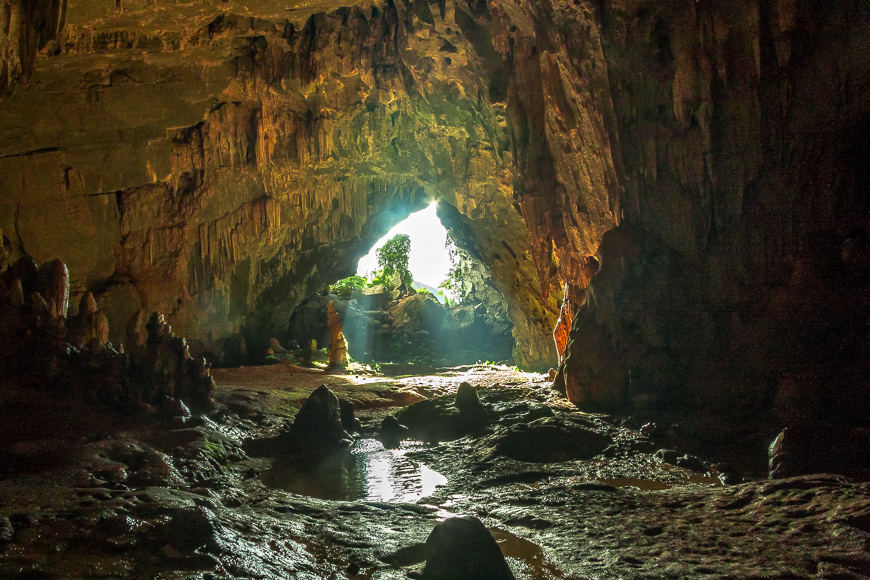 Entrance to Rat Cave in the Tu Lan cave system
Son Doong
Son Doong is the world's largest cave, with stalagmites that compete in height with London's Big Ben. An expedition to Son Doong takes four days with camping spots set up on scenic parts of the trail. This is the most challenging and costly expedition in the area, and often booked out months in advance.
Tu Lan
The Tu Lan cave system lets you wade, swim, climb and crawl through a seemingly never-ending network of tunnels. If you enjoy floating down underground rivers and burrowing through tight passageways, this is the cave system for you. Tours of Tu Lan range one-day moderate trips to full-on, four-day expeditions.
TIP: Parts of the 2017 blockbuster Kong: Skull Island were filmed in and around the Tu Lan cave system. Watch the movie for a taste of the scenery that awaits.
Hang Va and Nuoc Nut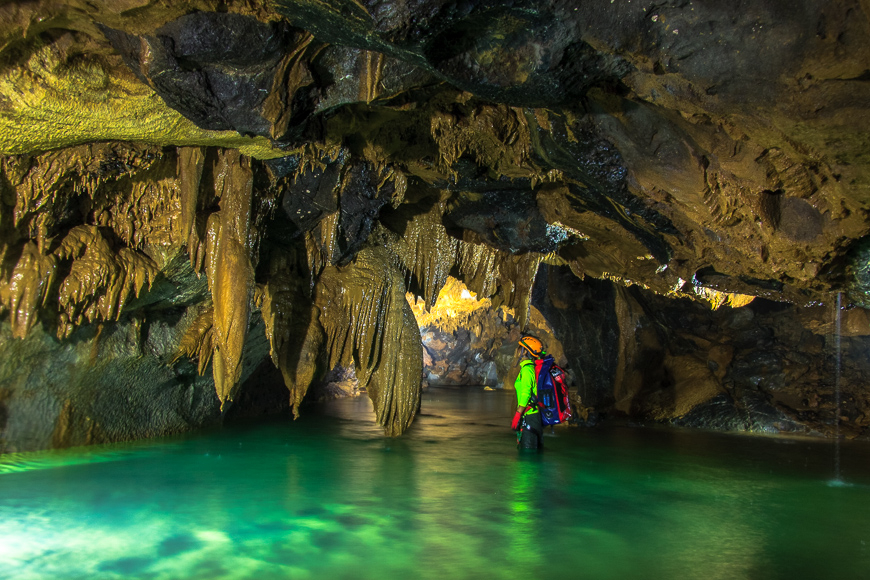 Exploring the interiors of Hang Va
Famous for their striking stalagmites and picturesque rock pools, Hang Va and Nuoc Nut are ideal for a two-day tour. The trip is short but challenging, as you'll need to navigate razor-sharp rocks and clamber over karst passes to access the caves. Hang Va is undoubtedly the highlight, especially January to March when the rock pools are at their fullest.
Pygmy Cave
Exploring Pygmy Cave, the world's fourth largest, involves a challenging three-day expedition complete with abseiling and climbing. En route you'll swim underground rivers in Tiger Cave and wade through jade-coloured ponds in Over Cave. If you haven't the time or budget for Son Doong, Pygmy Cave provides a great alternative at a fraction of the price. For tours of Pygmy Cave, visit the Jungle Boss website.
Hang En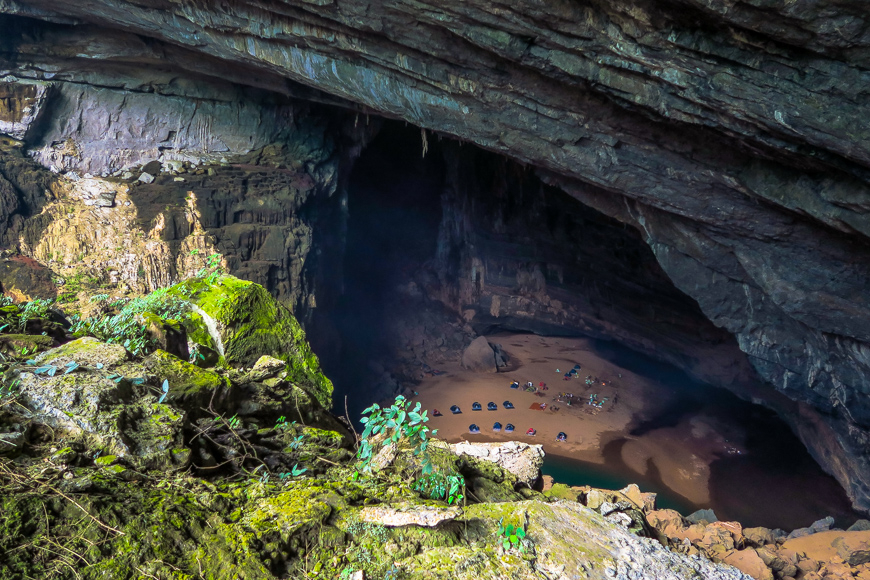 Camping inside Hang En Cave
A moderate, full-day trek through the national park brings you to Hang En, the world's third largest cave. Expeditions in Hang En include an overnight stay out in the jungle or at the cave entrance, beneath thousands of darting swallows.
TIP: For expeditions to Son Doong, Hang En, Tu Lan, Hang Va and Nuoc Nut, you'll need to book tours directly with Oxalis. Try to contact them in advance to avoid disappointment.
Phong Nha Cave and Paradise Cave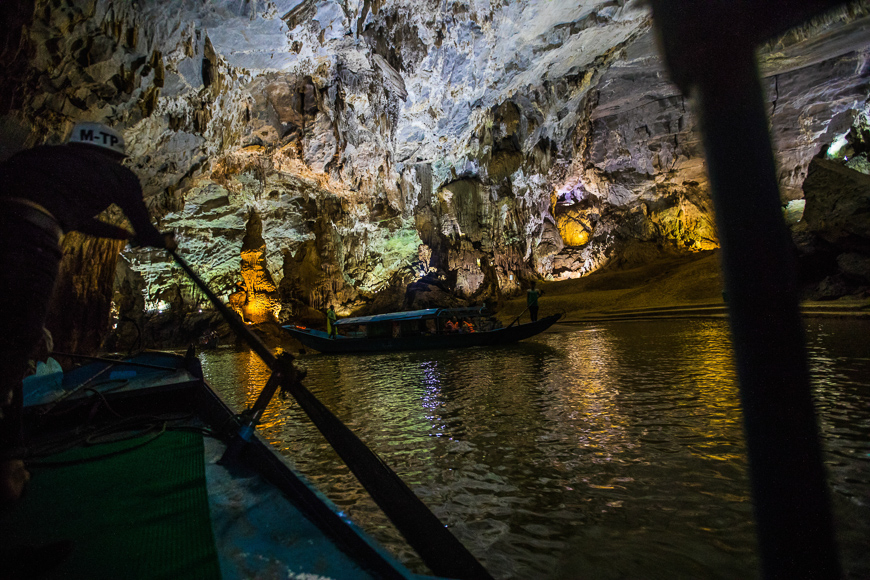 Boats drift through Phong Nha Cave
Phong Nha Cave and Paradise Cave are the most popular attractions in the national park. Both of these are enjoyable, straightforward half-day tours, easily booked via your hotel. The entry to Phong Nha Cave features a journey along the river, while in Paradise Cave, a series of wooden walkways lets you explore safely. If you're travelling with kids, both of these caves will allow them to join the fun.
---
Other Activities in Phong Nha
Kayaking
For an alternative way to see Phong Nha Cave, try a kayaking tour away the crowds. Hang Toi, just a few kilometres away, also presents a fun selection of activities, including kayaking, swimming and zip lining. Planning your own kayak adventure? Oxalis and Victory Road Villas rent kayaks for independent trips along Phong Nha's picturesque river.
Walking & Hiking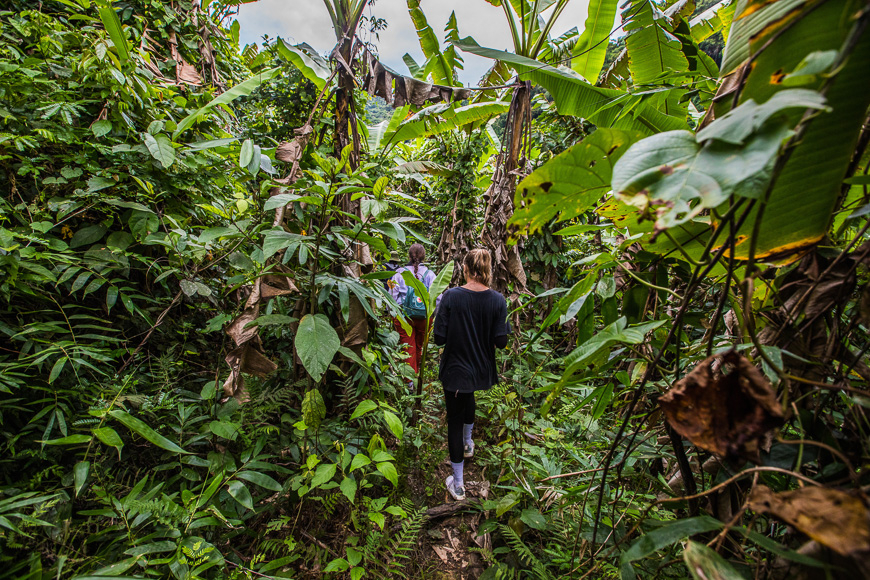 Hiking through the jungle is a highlight of Phong Nha
The scenery in Phong Nha-Ke Bang National Park is like nowhere else in Vietnam. If caving doesn't appeal, hiking is a rewarding way to ener Phong Nha's lush landscape. Organised hiking tours are the best way to explore, as local experts will take you along hidden trails unknown to other travellers. If you love wildlife, consider a night tour, or pay a visit to animal rescue centres on a two-day hiking eco-tour. Hai's Eco Tour and Jungle Boss are two top hiking tour outfits in the area.
TIP: Don't be scared to get your feet wet! The best hiking and cycling routes pass through rivers and streams bring appropriate footwear.
Cycling & Motorbike Tours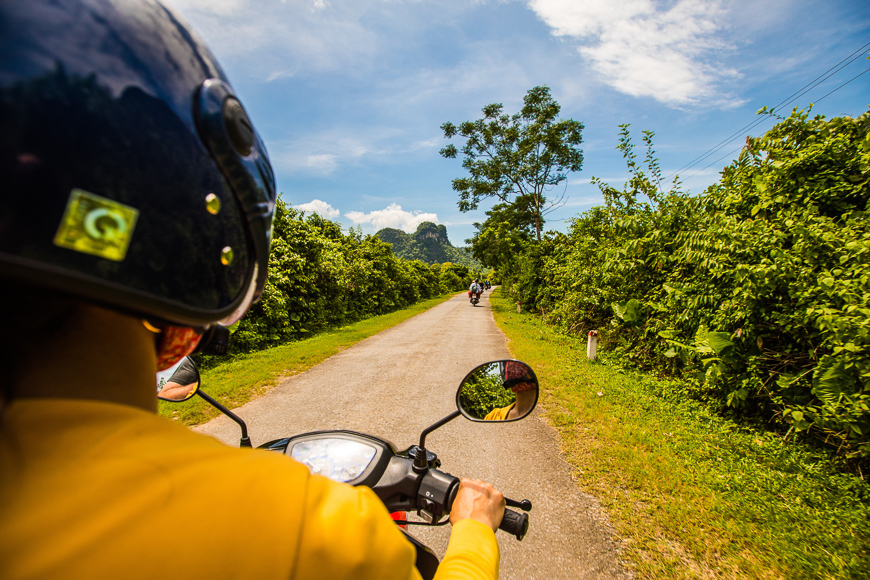 Cruising through the National Park in Phong Nha
Go deeper into the ryside as you navigate narrow lanes, crisscross rice paddies, and traverse streams. You can cycle in and around town on your own with rentals your hotel. Buy a local map to plan your own route along the national park's paved roads. For a more engaging experience, book a cycling tour. Only local guides can show you unmapped paths and introduce you to farmers and villagers. Feeling leisurely? A motorbike tour will let you to take in the scenery without breaking a sweat.
Phong Nha Adventure Cycling is geared up for quality bicycle tours with good mountain bikes and expert guides. Hai's Eco Tour also offers motorbike trips with licensed local drivers.
---
Practical Tips for Visting Phong Nha
Where to stay in Phong Nha
Phong Nha is a fantastic place to soak up the beauty of Vietnam's ryside. The town has a handful of accommodation options to choose , including easy-going hostels and homestays along the river, and even one upscale resort.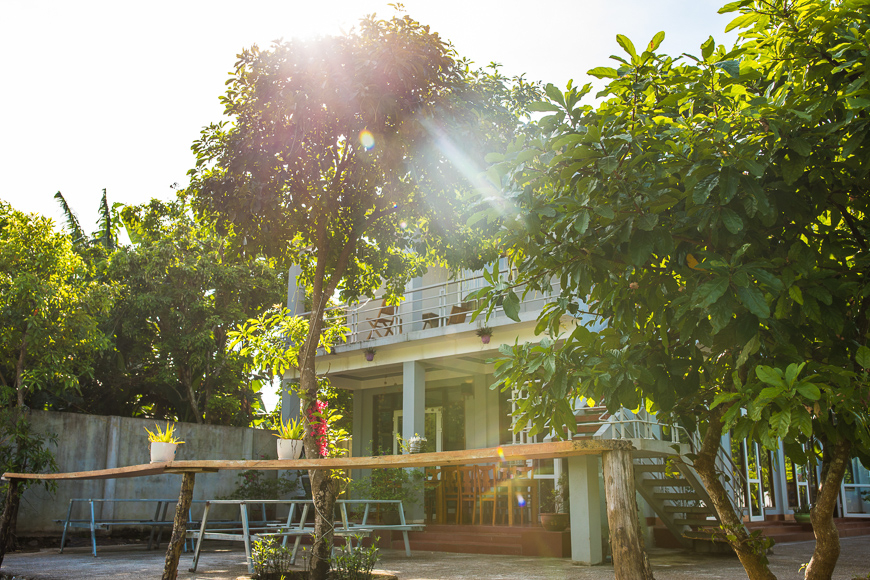 Phong Nha has a wide variety of accommodation
Restaurants in Phong Nha
You'll probably do most of your dining in Phong Nha at your hotel. Most homestays and guest houses offer their own menus for guests. For more variety, check out the growing number of family-run eateries and restaurants along the main road.
TIP: For a real farm-to-table culinary experience, take a bumpy ride or scenic boat trip to The Pub with Cold Beer – a Phong Nha attraction in itself.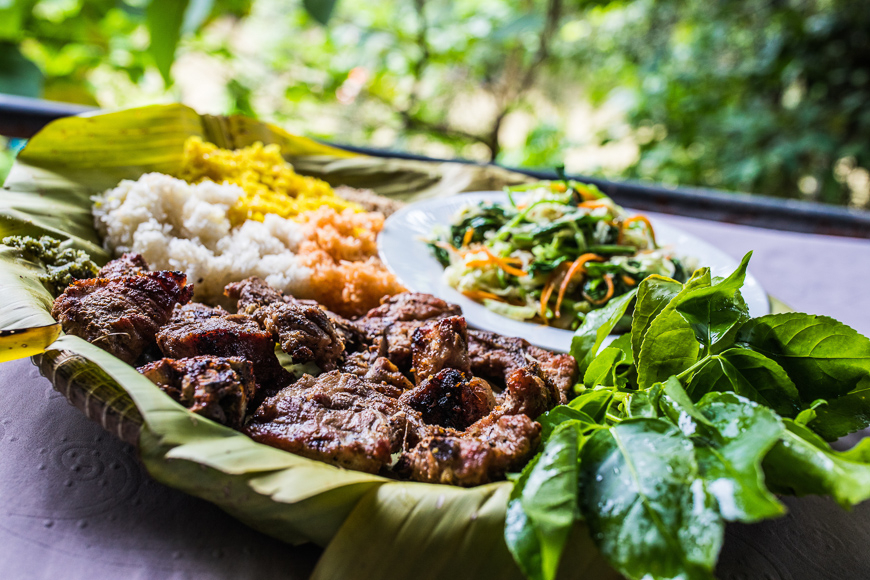 Grilled pork and colourful sticky rice are a local specialty
---
Transport to Phong Nha
Flying is the most comfortable way to reach Phong Nha. There are daily domestic flights to Dong Hoi Airport Hanoi and Ho Chi Minh City, and several weekly flights Chiang Mai, Thailand.
Dong Hoi can be reached by train on the main Hanoi – Ho Chi Minh City railway line. Nearby destinations are Hue and Danang (Hoi An) to the south and Ninh Binh to the north. Check the train schedule on the Vietnam Railway website or book your train tickets online in advance.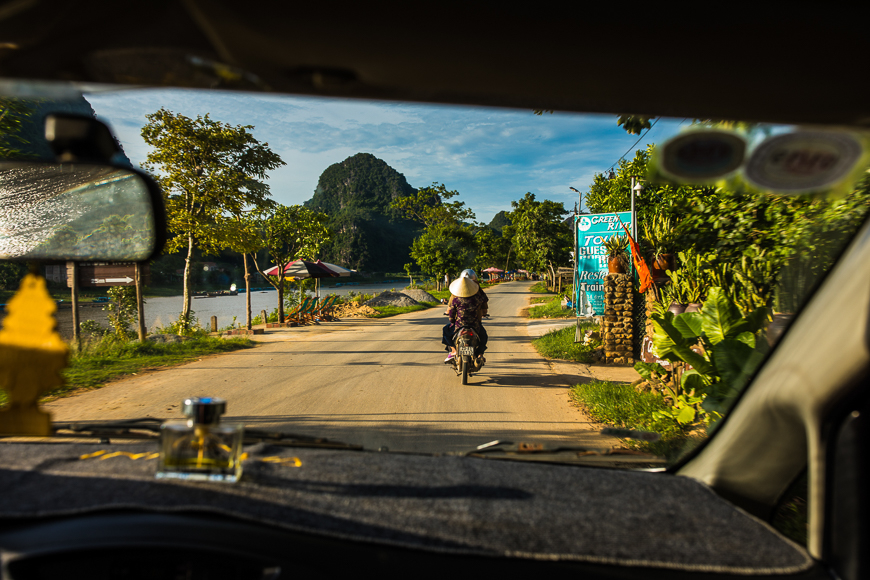 Driving into Phong Nha
Overnight sleeper buses (VND 250,000) leave Hanoi to Phong Nha daily. Travel time is about 9 hours one way. There are also several open buses to Phong Nha each day nearby cities such as Hue (VND 80,000) and Danang (VND 120,000). You can usually buy bus tickets at your accommodation or travel agents the day before departure.
Bus Dong Hoi to Phong Nha - Local buses run Dong Hoi to Phong Nha for as little as VND 40,000 a seat. The ride is between 45 to 90 minutes, and buses run hourly (except noon) 5am to 5pm. Note that the bus terminals are a few kilometres the train station and airport. If you need to you can get there via taxi or motorbike taxi.

Taxi Dong Hoi to Phong Nha - You can save time by taking a taxi directly to Phong Nha (VND 400,000) the airport or train station in Dong Hoi. If you're travelling on a budget, look for people to share a taxi with when you arrive.